Re: Yes *PIC*
In Response To:
Re: Yes (JohnAbercrombie)
Thanks, Rob.
Without a 'forefoot' (I've noticed in Et's pictures that a lot of the bow is out of the water), what keeps the bow from blowing downwind (i.e. leecocking) when trying to paddle upwind or with the wind forward?

Actually there isn't that much bow out of the water. But there is no deep foot like a Greenland kayak. Here's a couple pictures in calm water. In rough water the bow is in and out of waves.
I agree with the idea that 'Swedeform' (beam carried aft, buoyant stern-like the Aleut baidarka type) boats are better at catching waves.Looking at a surfski plan view, or even the Mariner boats which are known for good behaviour running down wave and downwind shows the power of this idea.
It just seems to me that a low volume bow section which buries easily in the wave trough (according to Et) and which is also above the water for some distance back from the bow (windage without hull in the water) would cause problems going upwind.
But, if folks feel a skeg is necessary in your baidarka-style boats, that can't be an issue- since a skeg will increase 'leecocking'..
The iqyax style baidarkas I build are "fish form" with the widest beam at the fore of the cockpit opening but the high volume and beam carried to the stern, counters a displacement hull's stern squat, and raises the stern quickly on waves making surfing easy.
The fixed rudder style stern stem (see below) keeps the iqyax tracking in winds.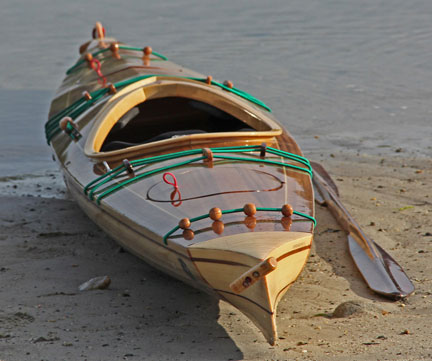 Messages In This Thread
Strip: Outer Island Cockpit Dimensions?
Rich D -- 12/24/2016, 3:22 pm

Re: Strip: Outer Island Cockpit Dimensions?
jaybabina -- 12/25/2016, 8:15 am

Re: Strip: Outer Island Cockpit Dimensions?
Rich D -- 12/25/2016, 2:20 pm

Re: Strip: Outer Island Cockpit Dimensions?
jaybabina -- 12/25/2016, 6:06 pm

Re: Strip: Outer Island Cockpit Dimensions?
Paul Sylvester -- 12/26/2016, 7:05 am

Re: Strip: Outer Island Cockpit Dimensions?
Rich D -- 12/26/2016, 8:19 am

Re: Strip: Outer Island Cockpit Dimensions?
JohnAbercrombie -- 12/26/2016, 1:05 pm

Re: Strip: Outer Island Cockpit Dimensions?
JohnAbercrombie -- 12/26/2016, 1:28 pm
Re: Strip: Outer Island Cockpit Dimensions?
Rich D -- 12/26/2016, 7:09 pm

Re: Strip: Outer Island Cockpit Dimensions?
JohnAbercrombie -- 12/26/2016, 8:21 pm
Re: Strip: Outer Island Cockpit Dimensions?
JohnAbercrombie -- 12/26/2016, 9:00 pm

Re: Strip: Outer Island Cockpit Dimensions?
Paul Sylvester -- 12/27/2016, 5:38 am

Re: Strip: Outer Island Cockpit Dimensions?
Steve Solomon -- 12/27/2016, 9:14 am

Re: Strip: Outer Island Cockpit Dimensions?
JohnAbercrombie -- 12/27/2016, 9:49 am

Re: Strip: Outer Island Cockpit Dimensions?
Steve Solomon -- 12/27/2016, 11:30 am

Re: Strip: Outer Island Cockpit Dimensions?
JohnAbercrombie -- 12/27/2016, 12:37 pm
Re: Strip: Outer Island Cockpit Dimensions?
Etienne Muller -- 12/27/2016, 3:40 pm

Re: Strip: Outer Island Cockpit Dimensions?
Steve Solomon -- 12/27/2016, 4:32 pm
Re: Strip: Outer Island Cockpit Dimensions?
JohnAbercrombie -- 12/27/2016, 4:57 pm

Re: Strip: Outer Island Cockpit Dimensions? *PIC*
Rob Macks/Laughing Loon CC&K -- 12/27/2016, 5:20 pm

Re: Strip: Outer Island Cockpit Dimensions?
Steve Solomon -- 12/27/2016, 6:25 pm

Re: Strip: Outer Island Cockpit Dimensions?
Etienne Muller -- 12/28/2016, 1:43 pm

Re: Strip: Outer Island Cockpit Dimensions?
JohnAbercrombie -- 12/28/2016, 2:51 pm

Re: Strip: Outer Island Cockpit Dimensions?
Etienne Muller -- 12/28/2016, 7:11 pm

Re: Strip: Outer Island Cockpit Dimensions?
JohnAbercrombie -- 12/28/2016, 7:31 pm

Re: Strip: Outer Island Cockpit Dimensions?
Etienne Muller -- 12/29/2016, 4:37 am

Re: Strip: Outer Island Cockpit Dimensions?
JohnAbercrombie -- 12/29/2016, 8:15 am

Re: Strip: Outer Island Cockpit Dimensions?
Dan Caouette (CSCWC) -- 12/29/2016, 10:39 am

Re: Strip: Outer Island Cockpit Dimensions?
Etienne Muller -- 12/29/2016, 1:04 pm

Re: Strip: Outer Island Cockpit Dimensions?
JohnAbercrombie -- 12/28/2016, 2:52 pm

Re: Strip: Outer Island Cockpit Dimensions?
Rich D -- 12/28/2016, 5:07 pm
Changing the Subject
Nick Schade - Guillemot Kayaks -- 12/29/2016, 8:46 pm

Re: Changing the Subject
JohnAbercrombie -- 12/29/2016, 10:04 pm

Re: Changing the Subject
Nick Schade - Guillemot Kayaks -- 12/30/2016, 11:28 am

Re: Changing the Subject
Etienne Muller -- 12/30/2016, 4:01 am